We received our order of
Thieves Household Cleaner
and I am in AWE!
I mean...WOW!
Deluded 30 parts water to 1 part Thieves Household Cleaner in a spray bottle is what I'm using to replace my all purpose spray cleaner of water and vinegar. Let me just say that the Thieves smells SO much nicer than vinegar!
First, I used it to clean off our table after lunch. Spray and wipe spray and wipe. Spray spray spray, wipe wipe wipe. Everything wiped off easily and the table was clean. I can't say that it worked better than vinegar, but again, it sure smelt wonderful! A few minutes later, while drinking coffee with a friend at the table, I noticed how smooth and soft my table felt and it was so shiny!
Then tonight, my husband pulled the rug by the front door out. I've been battling the tile and grout under that rug for years! I've used just about every DIY cleaner I could find on Pinterest but with each recipe I would scrub and scrub but never feel like my effort was worth the minimal clean I got. Many times I put a tile cleaner in the shopping cart but I just couldn't bring myself to buy it. So tonight, I decided to try the Thieves Household Cleaner.
Yes, I scrubbed with a bristled brush. Yes, it was a bit of work. No, not nearly as much work as the other Green DIY cleaners I have used. And YES...totally worth every minute! This is the cleanest my grout has been in years! (FYI, the grout is not white, it is tinted to a tan colour.)
Are you ready?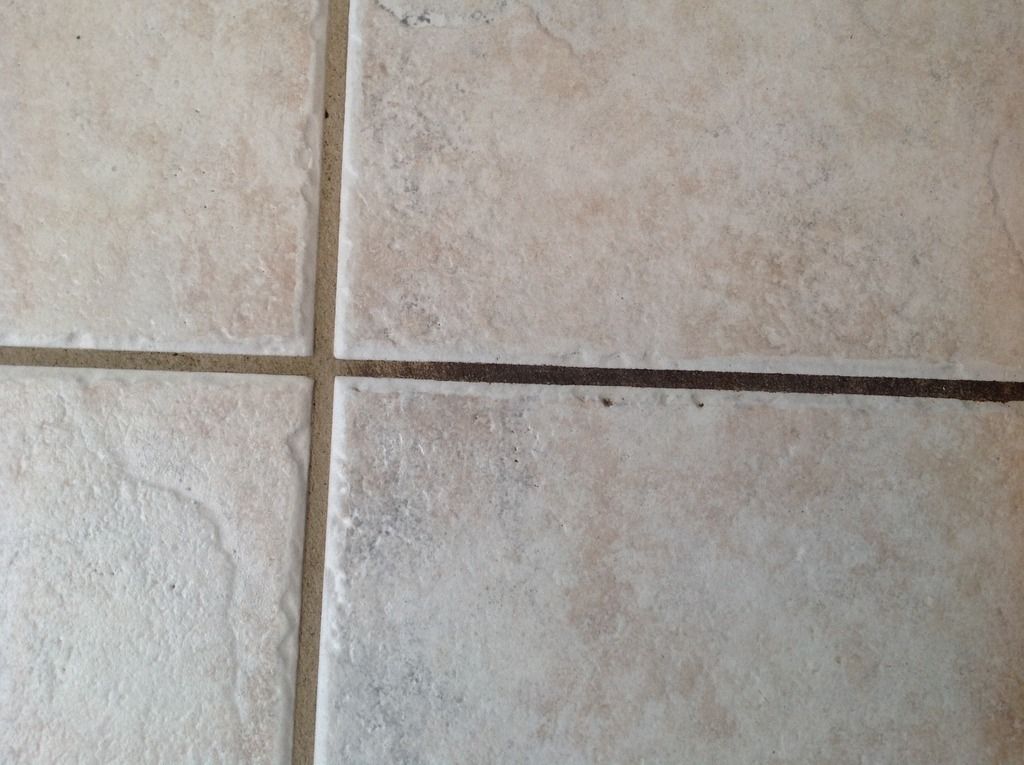 Isn't that beautiful! Before on the right, after on the left!
I cannot believe how clean it is! I kept thinking it must be a trick of the light or that I just was hoping it was so much cleaner...but here is the proof! I found it worked best if I scrubbed a little, let it sit for a minute or so, scrubbed some more, then wiped it all up with a wet cloth.
Now, I'm using it on the tile in the shower. Again, I needed to scrub with a brush but the result is amazing! My plan is to leave a spray bottle in the shower with the same 30 to 1 dilution of Thieves Household Cleaner. This will be sprayed on the walls of the shower after each shower.
Did I mention it smells wonderful? :)
You can purchase Thieves Household Cleaner through
Young Living
Essential Oils as a customer at retail price, or better yet, become a distributor and get the distributor discount. When you purchase the
Premium Starter Kit
, you will receive 10 essential oils, a diffuser, a roll on dispenser and some samples of other wonderful products Young Living has developed. Also, if you are in Canada, being a distributor allows you access to all of the USA products. Not to mention you get to tell others about how to improve their lives by using Essential Oils...or not! There is no pressure to sell anything or tell anyone about Essential Oils (but they are so awesome, why would you want to keep them a secret!) To keep your distributor status, you only need to purchase $50 worth of product a YEAR!!
If you wish to sign up with me, my Member Number is 2807411. If you have any problems, leave a comment and I will do my best to help you.
If you want more info about Young Living Essential Oils, leave a comment and I will get back to you. I'm planning a Facebook group to help all of us use our Essential Oils to the fullest! I'm so excited!
Disclaimer...I cannot guaranty the same results that I have had. I make mistakes all the time. I'm learning! I am not a doctor. I'm a mom, sharing my experiences with others, in a hope to help people. I will do my best to use the correct wordage but if I make a claim as a fact, I mean that fact as it pertains to me and my family and may not be the same view as Young Living Essential Oils. Always use your head and make decisions that are best for you and your family.