Something we all have in common? Pain. Everyone has had pain.
In this instance, I'm not talking about heart ache or emotional health. I'm talking physical pain. It can make us miserable and make us miserable to be around. It can be hard to see the good in the world when we are viewing the world, and our circumstances, through a veil of pain.
Headaches, for us, are the worst. One of my sons gets the most horrible, debilitating headaches, the kind that hurt so bad he gets sick. Ibprophen and Tylenol don't touch his pain. I've taken him to the doctor, who then tells me that my son gets headaches. I've taken him to the physiotherapist, where he get a bit of relief, but not really.
Three weeks ago, one of my friends came over for coffee. She started talking to me about Young Living Essential Oils. She had been to an informational meeting the night before and had received a gift, a take-away. It was labelled "Pain Cream."
At the time I was having a bad day with my Plantar Fasciitis. My feet hurt all the time. I limp every time I stand after sitting for a bit. I can barely stand when I wake up in the morning. Mine comes from very tight calves, hamstrings and glutes. In fact, I've had acupuncture on my calves and the needles where bending as he was trying to get them in the correct spots!
I've been "crunchy" most of my life. Love cooking from scratch, walking barefoot, Making kombucha and fermenting veggies! But essential oils? Really? How could essential oils of plants help? Not to mention, I've read a little about them and how you must be so careful to use them correctly. Like I have time to do the research!
I nodded and smiled, being supportive of my friend. But when she offered that I could try this "Pain Away Cream"... How supportive could I be? I didn't want to buy into anything false. No Woo for me, please! But then again, I'd sure like some relief from the pain.
Why not try it! I wasn't expecting much but you only live once! I smoothed the cream on the calf muscles on my right leg while we chatted. Three minutes later...WHAT? I stopped our conversation cold! The pain in my foot was GONE! I couldn't believe it!
I called over my son, who was in the middle of a severe headache. Maybe, I thought, maybe he could have some relief. I smoothed a small amount of the pain cream on his neck and shoulders. His bodies reaction told me everything I needed to know! He breathed a sigh of relief and took a deep relaxing breath.
"Mom," he said, "that feels so much better!"
SOLD! If I can help him, and me, with our pain so easily, after so long and trying everything...that's a big YES!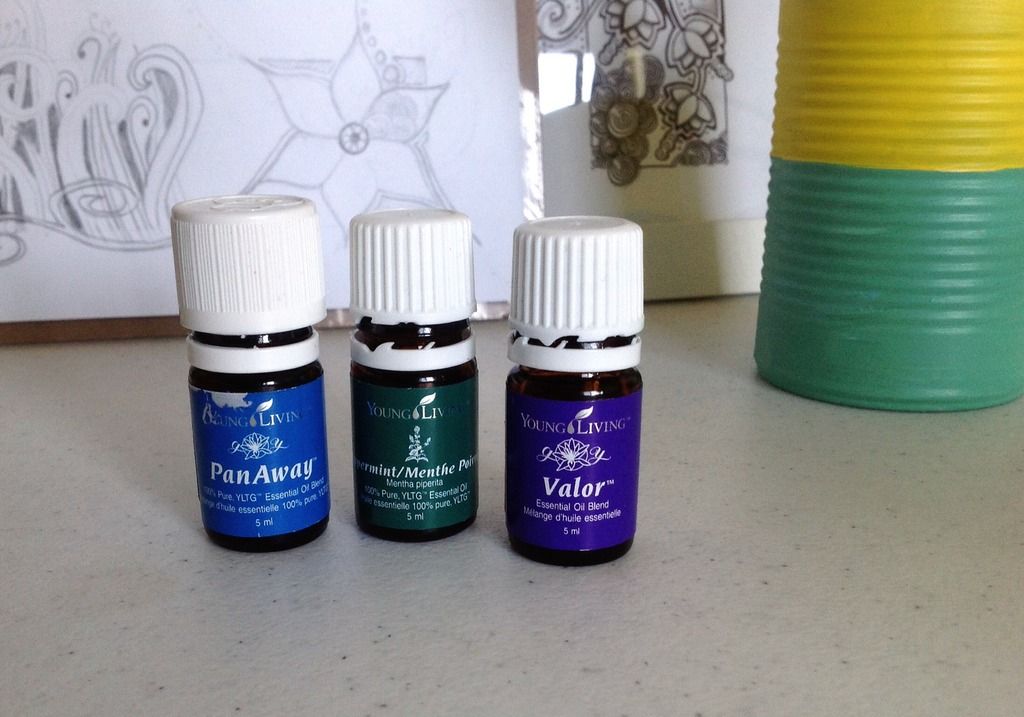 (We use our oils so often, we are wearing the labels off!)
So the recipe is...as found on Pinterest. It's called Pain Cream but my friend and I changed the name to Pain Away because that is what it does.
Pain Away Cream
* 1 cup raw unrefined Coconut Oil
* 10 drops
Peppermint EO
* 10 drops
Valor EO
* 10 drops
PanAway EO
Using a hand mixer, whip the coconut oil until fluffy. I whip it, then place it in the fridge for 20 minutes to harden up just a bit, then whip it some more. I get a better whipped consistency.
Add in the drops of Essential Oils and whip a bit more. Divide into three or more small containers. Use out of one at a time, keeping the rest in the fridge until needed. If your house is warm, you coconut oil will be more runny. I always keep mine in the fridge and use a spoon to get a small amount whenever we need some.
I ended up giving most of mine away because why not help someone when you can! Sometimes I add an extra drop or two of PanAway to my sons back, when he's in extreme pain, and I diffuse Peppermint in the house to help him to relax.
All of these Essential Oils I have been talking about are included in the
Premium Starter Kit
, which I tell you about in a minute!
Also, I can only recommend Young Living Essential Oils. They are therapeutic grade. From Seed to Seal they take care of it all. If you are interested in purchasing
Young Living Essential Oils
, I recommend becoming a Distributor like me. (You don't need to sell anything but you will receive discounted pricing on your future essential oil orders! And only need to purchase about $60 of product a YEAR!) You can sign up using my Member Number...2807411. Once I have a few more people on my team I'm going to start a Facebook page where we can share all the awesome we learn about these amazing
Young Living Essential Oils
.
When you purchase the
Premium Starter Kit
you will receive: (copied from Young Living web page) Everyday Oils collection, Dewdrop™ Home Diffuser, Welcome to Young Living booklet, Essential Oils at a Glance user's guide, Distributor Resource Guide, S.E.E.D. Sharing for Success booklet, Stress Away 5-ml, AromaGlide Roller Fitment, two Lavender Sample Packets, two Peppermint Sample Packets, two Peace & Calming Sample Packets, two Thieves Sample Packets, Sample Packet Business Cards, two NingXia Red 2-oz. samples, Distributor Agreement, and Product Guide.
Disclaimer...I cannot guaranty the same results that I have had. I'm learning! I am not a doctor. I'm a mom, sharing my experiences with others, in a hope to help people. I will do my best to use the correct wordage but I make mistakes all the time. If I make a claim as a fact, I mean that fact as it pertains to me and my family and may not be the same view as Young Living Essential Oils. Always use your head and make decisions that are best for you and your family.